A memorable wine is like a map of taste, a kind of liquid geography. It`s the intersection where man, plant, and planet meet."
Just like wine, some of the best things in life do not just change, they evolve: developing gradually into a better, more complex state with time. The same is said of Blue Rock's commitment to producing vintages true to their European roots. Wines on the estate are crafted with the type of knowledge and modern finesse that only come with experience.
Blue Rock's technique enhances the uniqueness of each wine`s character while aIso maintaining the soul of its history and the integrity of the land.
The result: vintages that feel like an accessible luxury because they exceed expectation, but for a reasonable price. It's like getting upgraded to first class when you least expect it.
"When we first started Blue Rock..."
Learn about our European style estate vineyard
Dating back to 1880, the 100-acre Blue Rock estate tells the story of how European winemaking came to Sonoma County's Alexander Valley. Italian immigrants brought with them olive trees, vine cuttings, and knowledge of grape growing. The region's undulating golden hills and idyllic vistas even look reminiscent of Tuscany itself.
Blue Rock Winery was first settled by Italians who worked at the Italian-Swiss Colony winery just down the road. The original stone house was once Villa Maria winery, which closed its doors during the Prohibition Era. Acquired by Kenny and Cheryl Kahn in 1987, the Estate maintains much of its old world character. It even maintains its original olive trees that are now over 140 years old.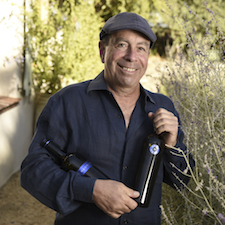 "In the United States, especially in California, there is so little remaining
of our past. Everything is a modern version of things that existed
before, but Blue Rock Winery is the real thing. We preserved the Estate's old-
world style because it is a gift to our culture where so little history
remains." – Kenny Kahn
Adding onto the property, Cheryl and Kenny imported additional olive tree cuttings from Luca, Italy
where some of the world's best oil is produced. You'll also discover organic vegetable gardens, a
130-year-old bocce ball court, and surrounding hillsides that offer incredible vistas. The hills are
also inhabited by wild turkeys, feral pigs, and abundant wildlife.
HOW WE
FELL IN LOVE WITH BLUE ROCK
"A project that will take a lifetime but is worth."
On a trip to his local farmer's market, Kenny once realized how farming techniques impact taste. He purchased a bunch of mixed greens at the market from a small producer and noticed they were far more delicious than those sold at any major grocery store. After that discovery, it was as if the soil spoke to him and he resolved to treat the soil on the Blue Rock Estate with the same care by embracing sustainable practices and producing his own compost on site. Growing up on a farm in Tennessee, Kenny was already familiar with the negative impact of chemicals and he resolved to farm Blue Rock sustainably.
An evolving process, sustainability acknowledges the need to continually fine tune production methods in order to best preserve the land. Blue Rock truly values the symbiotic relationship that can be had between man and nature: the better we keep the earth, the better wines we can produce. The team constantly evaluates, then reevaluates, how to farm in order to have the least significant carbon impact. For example, Blue Rock recently invested in a barrel steam cleaning system that uses 97 percent less water than traditional cleaning methods. Further, every drop of water used in the winery gets recycled into irrigation water for the vines.
We respect the soil knowing that the vineyard is the foundation of our legacy. We pursue a sensitive, low-input cultivation policy that is reliant upon compost and natural amendments rather than chemical fertilizers. Every farming practice is tempered by the specific requirements of Blue Rock's varied microclimates and the knowledge that comes from a historical relationship with every vine.
WE WANTED TO DIVERSIFY
FOR A SUSTAINABLE ENVIRONMENT
Several years ago when we gave up our dependence on chemical agriculture, and move toward something more sustainable and organic.
We don't make wine, we raise it."
The estate winemaking traditions of Blue Rock are perhaps best summed up with the French term, terroir, which acknowledges the environmental factors that make the vineyard site unique including soil, weather, appellation, and to that effect, the human element as well.
Running an estate vineyard offers more control over the winemaking process, which yields handcrafted wines of distinction and soul that also give a sense of place. The name Blue Rock originates from the local soil studded with blue pebbles, rocks, and boulders of serpentine. The serpentine rock defines the unique flavor profile of the vineyard as it naturally yields a smaller quantity of grapes.
Traversing 46 acres, the hillside vineyard is planted to the five Bordeaux varietals: Cabernet Sauvignon, Cabernet Franc, Petit Verdot, Merlot, and Malbec. In 1993, an additional three acres of Syrah were planted on an extreme hillside. The cool mornings and warm days that characterize the Alexander Valley allow Blue Rock's Bordeaux varietals to develop clarity and finesse.
Handcrafted on site, each vintage maintains its unique personality and charm without the interference of excessive oak or other winemaking techniques found in mass quantity production.
BLUE ROCK DOES BORDEAUX
VARIETALS BEST
and build deep bonds with your new familiy of like-minded experience seekers.
The team at Blue Rock is more like a small family. Working together, each member not only facilitates the healthy cultivation of the vineyard but also support each others' growth as individuals. Here, you come across stories like that of Eduardo Gomez who followed in the footsteps of his father working among the vines at Blue Rock and now aspires to study viticulture in college.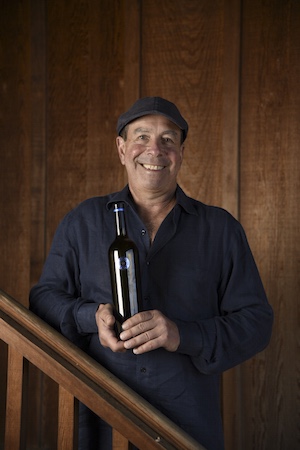 As the Vigneron, Kenny inspires Blue Rock's vision and sets the tone
for quality standards that also align with the estate's core values of
authenticity.
Respect for nature, heritage, and commitment to doing one's very
best. His vision is driven forward by three passionate winemakers
who are experts at their craft and a supportive staff who contribute
their own brilliance to the winemaking experience.
Blue Rock in Your Inbox
Savor in-depth articles, wine releases, recipes, tasting room experiences and more